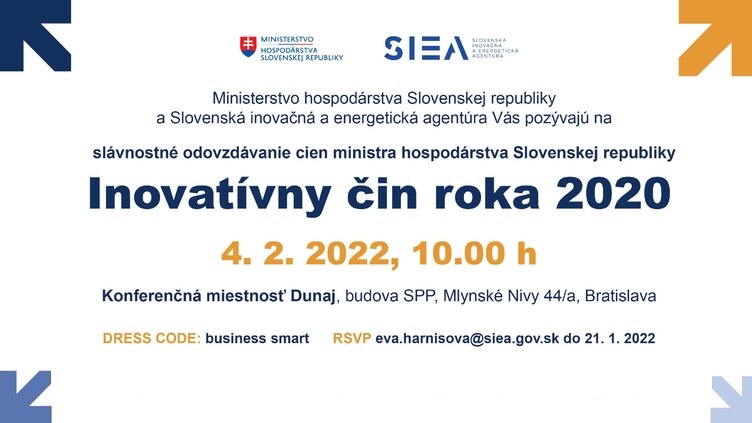 Inovatívny čin roka 2020
Spoločnosť Chemosvit Fibrochem sa zo svojou inováciou PROLEN® MEDICAL umiestnila na 1.mieste v kategórii COVID-19 inovácia, ktorá pomohla pri riešení pandemickej situácie a získala cenu ministra hospodárstva SR v súťaži Inovatívny čin roka 2020.
Antimikrobiálne oblečenie pre zdravotnícky personál a textilné výrobky PROLEN® MEDICAL sú vyrobené zo 100% polypropylénového certifikovaného slovenského vlákna Prolen® Siltex a Prolen ®Bodyfresh , ktoré ničí vírusy, baktérie a bráni rastu plesní. Textílie sú ošetrené permanentným antimikrobiálnym aditívom na báze iónov striebra a zinku a preukázateľne redukujú koronavírus SARS-CoV-2 o 99 %. Vlákna majú permanentnú antimikrobiálnu úprava, ktorá sa nevypiera. Textilné výrobky boli použité na zastavenie šírenia nákazy Covid 19, pôvodne vo forme rúšok, neskôr bolo portfólio zdravotného oblečenia a posteľnej bielizne.
2020 Innovation Deed Award
Chemosvit Fibrochem, with its PROLEN® MEDICAL innovation, placed 1st in the COVID-19 innovation category, which helped solving  the pandemic situation. Thanks to this Chemosvit Fibrochem won the Minister of Economy of the Slovak Republic 2020 Innovation Deed Award.
PROLEN® MEDICAL textile products and antimicrobial clothing for medical staff are made of 100% polypropylene certified Slovak yarn Prolen® Siltex and Prolen ®Bodyfresh, which destroys viruses, bacteria and prevents the growth of fungi. The textiles are treated with a permanent antimicrobial additive based on silver and zinc ions and reduce coronavirus SARS-CoV-2 by 99%. The yarn has a permanent, non-washable antimicrobial treatment. Textiles were originally used to stop the spread of Covid 19 in the form of facemasks, but later the portfolio was expanded to include medical clothing and bedding.